Finreon wins two Lipper Fund Awards 2020 in cooperation with St. Galler Kantonalbank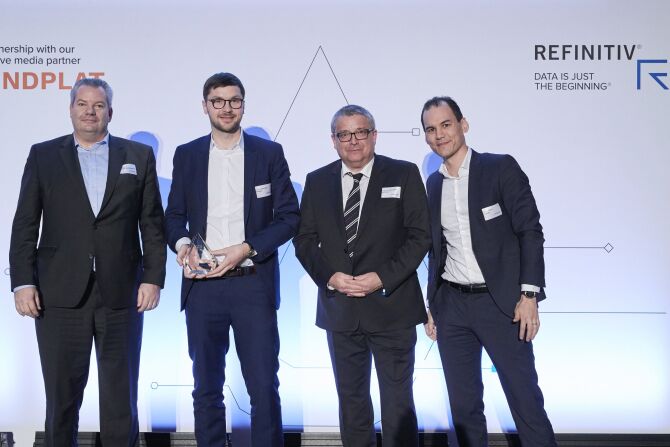 It is with great pleasure that we inform you that Finreon, in collaboration with St.Galler Kantonalbank (SGKB), has won two Lipper Fund Awards 2020. The awards were presented to representatives of the two partners on Wednesday, 26 February 2020 at the official Refinitiv Lipper Fund Awards 2020 Switzerland event at Park Hyatt in Zurich.
For more than three decades, the Refinitiv Lipper Fund Awards have recognized funds and fund managers for their risk-adjusted three-, five- and ten-year performance compared to their peers. This year, Finreon & SGKB receive two awards for the Finreon Tail Risk Control® 0-100 (CHF) A Fund:
Finreon Tail Risk Control® 0-100 (CHF) Fund
The Finreon Tail Risk Indicator was developed exclusively by Finreon in 2011 and allows to identify market regimes with high or low «crash»-risk. For this purpose, a broad variety of different market factors are analysed systematically and on a daily basis. The result – the risk of the prevailing market regime – is shown as a risk signal light. Based on this risk measurement, SGKB manages the equity exposure within the Finreon Tail Risk Control® 0-100 (CHF) Fund depending on the measured risk regime from 0% (for high measured crash risks) to 100% (for low measured crash risks). The equity exposure is held in a portfolio that follows the SPI 20 index.
Successful partnership Finreon - St.Galler Kantonalbank
Finreon is a spin-off of the University of St.Gallen (HSG) and provides innovative asset management solutions as an investment advisor. St.Galler Kantonalbank is one of the largest cantonal banks in Switzerland and is guaranteed by the canton of St.Gallen. Finreon and SGKB have been working together very successfully since 2009 and manage various funds and mandates.
Press Release of the St.Galler Kantonalbank